In 2016, Mission Ceres was selected by curator Fernando Escobar for ArteCámara, the emerging talents section of ArtBo International Art Fair of Bogotá. The 250 square feet installation space re-created a historic museum room containing sculptures, written media, photo composites and videos, among others.
Mission Ceres will be on display during all of 2017 at San Diego International Airport's exhibition Intergalactic Dreaming, curated by Ginger Shulick Porcella, Director of the San Diego Art Institute. View a selection of over 10 works at gate 28 of Terminal 2.
Minor Lakes, an image that is part of Mission Ceres is on display as part of The Intersection, a public art non profit in San Diego, California.
Cracks over shadows, a piece from Mission Ceres was included in a recent show at the Los Angeles Center for Digital Art.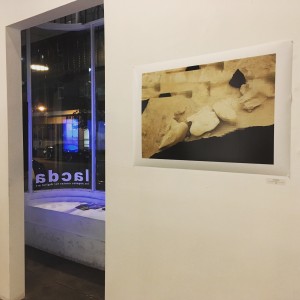 Mission Ceres- Enkyklios Paideia is a science fiction project that combines photography, digital mixed media, 3D prints, found objects, video, poetry and prose to create a world that combines human condition and terrestrial landscape through the eyes of artificial intelligence. At a moment of much speculation and reality around our planet, the state of survival and the role of science, technology and spirituality, this series reflects on our existence, our landscape and our destiny through the visual, literary and philosophical aspects of different timelines.
Mission Ceres moves between life as we know it on earth and its possibility on distant galaxies. Memories left by written journals, conscious and unconscious information from cyberspace and human experience, as well as other related sources from science and art give life to an artificially intelligent satellite named C.A.L.I that travels through space and eventually becomes a planet of its own.
The installation recreates a fictional museum exhibition that includes a copy of the book that accompanies the series, Vol I, Era Fragments of an Evolving Landscape; a video narration of the short story titled Foreword-Preface, in which C.A.L.I reveals confidencial Mission documents as well as its own journal of impressions on Earth. A variety of other objects, sculptures, and documents serve as starting point for a conversation with the viewer and his/her own vision of the contemporary world and all it encompasses.
Click Series- Mision Ceres, Enkyklios Paideia, on the Main Menu to see images of some of the photo-composites included in the project.
Click on the literature tab for poetry and fragments of the short story Foreword and Preface.
Watch videos from the installation:
Flip through the digital mockup of  MC, Enkyklios Paideia by clicking here